When the news hit the social media a few weeks ago, many were confused. While a few believed, a handful of King Wasiu Ayinde Marshal's fans doubted the authenticity of the story since Titilope Marshal aka Alfathia is the latest wife of the Fuji Maestro.
KWAM1 married Titilope in 2018 when he marked his 61st birthday in Ijebu Ode.
However, the story of KWAM1's marriage to 'latest wife', Aramide Adenle, an Ibadan-based fashion designer, popularly called Aramite, hit the newsstand and online media when FIRST WEEKLY magazine published that KWAM1 threw a party which cost over N15m for his new wife's mother's burial in Ibadan.
It was also alleged that the couple has a daughter together.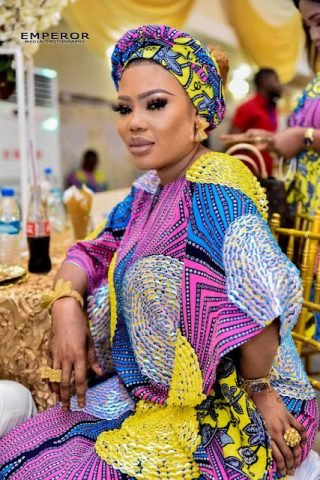 While the couturier and her siblings hosted many of their friends and family to an after-burial party in Ibadan where Fuji King, K1 played, many guests were amazed at the conduct of KWAM1 on the bandstand and dance floor.
"He kept spraying wads of naira and dollars on Aramite, her sister who is based in London, and all their friends. As a matter of fact, he allegedly insinuated through his song that he is the father of the child. Alhaji was obviously stamping the fact that he is Aramite's husband and even the father of her only child. He even abused some of the perceived closely intimate friends of Aramide present at the party," a source told Kemiashefonlovehaven.com," a source told Kemiashefonlovehaven.com
Also present at the party was NURTW Lagos Chairman, Musiliu Akinsanya aka MC Oluomo, who is said to be very close to Aramide.
After the party, there was this story that made the rounds that K1 and Aramite are dating and that he might well be the father of her child. He was said to have sang about their love child in his praise songs to Aramide.
Reacting to this, Aramide said, "The relationship between myself and Alhaji is simply father-to-daughter relationship. The relationship is strictly father and daughter relationship."
K1 has promptly denied the story too.
Meanwhile, in an interview with City People, the alleged latest 'wife' opened up on their affair.
City People: Months after the after burial party you and your siblings held for your mum, people are still talking about how grand it was. Looking back how did you see the party?
It's was indeed a wonderful party. I still give all the glory and honor to God.
City People: Immediately after the party there was this story about how KWAM1 on the bandstand insinuated through his song that he is the father of your child. What really happened?
Alhaji did no such thing. I have known Alhaji since I was a little child. Alhaji refers to us— myself and my sisters— as 'Awon omo' mi (my children) So, I still find it very disheartening why people would think I had my child for Alhaji. In the Yoruba language, when you get help from someone and you reply with "oshey oko mi" (Thanks my darling) that does not mean the person is your husband. When I greet people and ask them in Yoruba that "omo mi nko?" (How are my children). Does that mean the child is my biological child? Hope you get me well?
City People: What is your relationship with K1?

The relationship between myself and Alhaji is simply father-to-daughter relationship. The relationship is strictly father and daughter relationship.
Don't you think the story went viral because you have refused to reveal the father of your child?
I would say yes. You know people always want to know everything. I like everything that has to do with my love life very private and that won't change. My daughter knows her father and the father also knows his child. All these rumours is because I am a socialite. It is deliberate to tarnish my image because of the huge success recorded at the party. It is very unfair.To stop all the shits going around about the paternity of my daughter because of being a socialite. My daughter's father is a Canada-based businessman. He doesn't live here They just want to force me to reveal his identity and I won't. He is a very private person.
How did your baby father take the rumour?
Hmmmmmmmmm baby father? Definitely all men will react negatively.But I know all will be fine. He understands me. He knows me well and he knows the truth. It is sad that people will choose to twist and concoct stories to mess up people. Thank God you asked for my own side of the story.