When the news broke, many fans of the actors slammed pretty actress, Rachael Okonkwo for being a tool in the hands of the devil to break a blissful union.
Last week, the news went viral that handsome actor, Ken Erics abandoned his marriage.
His wife, Onyi disclosed this while reacting to rumour of Blossom Chukwujekwu and Maureen Esisi's marriage ending on grounds of infidelity.
In an Instagram exchange with a follower, Onyi Adaba revealed that she has been subjected to pain and trauma for the past 10 months as her husband Ken Erics abandoned their marriage and moved out of their apartment.
She has also struck out her "Mrs" title, reverting to Miss Onyi Adaba.
While news of what transpired between the couple was made known by the estranged wife, many fans who believed Ken and Rachael were lovers and this must have caused the break-up.
Rachael posted on Instagram: "Sending love and light to the couple"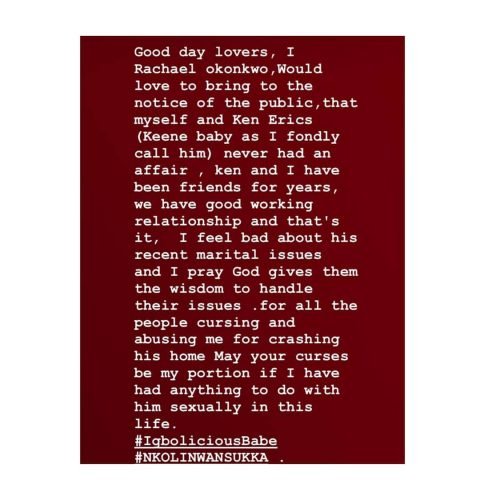 Onyi Adada, when contacted on what caused the marital crisis, opened up:
"I cannot talk now but all I can say is that there was no child before the marriage or after it, they just want to soil my name, I swear on my unborn children that I don't have any child. I have really suffered. I currently live in the village because there is nowhere else to go.
"Since the wedding night until he moved out, Ken did not touch me and I have only just found out on the Internet the reason why. He never touched me at all."