The video of a certain woman who was dancing with her two kids, tagged as ex wife of Ogbonna Kanu, went viral yesterday on social media.
She later thanked Kanu's brother in another post for making out time to see his child at the hospital.
Meanwhile, on Children's Day, the newly-wedded Kanu's younger brother who is beau to Laura Ikeji, visited his child at the hospital and shared photo.

He wrote: "All day been in the hospital i thank God his fine. amen" (sic)
Everyone assumed he was once married.
But just some moments ago, he (Ogbonna) and wife, Laura released a 'statement' that he was never married.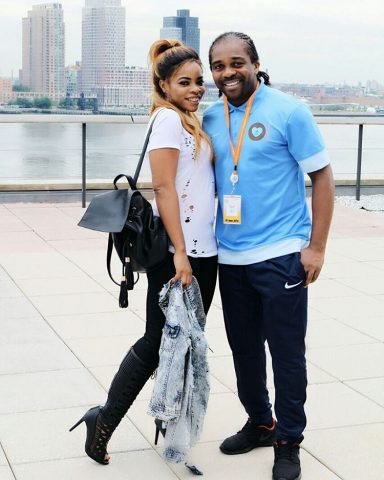 On his IG page, the ex footballer, Ogbonna wrote: "People, I just want to let you all know that I was not married prior to my marriage to Laura I'm happy to be married to Laura my wife. I have two lovely kids but was not married. I'm cordial with the mother of my two wonderful children but we were not together when I met my wife Laura is my only wife and I love her God bless you all." (sic)
Meanwhile, Laura who is now very pregnant, also posted on her Instagram page:
"This nicca of mine has only been married ONCE in his entire life. N that's to me. He has 2 beautiful n well trained kids that I love and adore. Ogbonna and I are beyond husband n wife. We're like siblings. I adore this man. @ogbobekee1 So no news here. "(sic)
Was Ogbonna ever married?
Few years ago, Ogbonna, who also played football in England, was a guy any woman would love to have as a lover because of his pocket. Ogbonna had also stint with the Super Eagles of Nigeria. In 2013, it was reported that the handsome ex-footballer lost some of his assets to a British lover who bore him two children. The embittered lover took Ogbonna to court over an alleged infidelity claim, which made him to lose some of his savings to the woman. He was said to have become broke after the unfortunate loss of his properties to the mother of his children. It was also reported that Ogbonna pleaded with some of his family members to beg his elder brother on his behalf to help him rise again after Kanu allegedly ignored him during his ordeal. As we learnt from the report, Kanu had earlier warned Ogbonna to stop his affair with the British woman and settle for a Nigerian lady, but the love-drunk Ogbonna allegedly threw the advice of his older sibling into the gutter.
He later dated Nollywood actress, Ebube Nwagbo but the affair crashed.
He started dating Linda Ikeji's sister and they got engaged in December 2016.He got married to Laura at the Ikoyi Registry on January 2017.

Additional reports from First Weekly magazine