Theirs is a love that endures.

They got married on August 8, 1992. They had their
babies 17 years after.
To Dr. Dayo Olagunju and Mrs. Kehinde Temidola
Olagunju, love conquers the most unpleasant situation.
Kehinde said, "I thought I was the only one God has
refused to answer because I got married same day with my twin sister who had
her children. I cried, I prayed, I did all I knew to do medically and
spiritually but nothing was forthcoming."
Born August 9, 1957 to a royal family, Dr Olagunju added
that: "We believed in God but I was not stampeded. Whenever anyone asked after
my wife, I replied that, 'God is in control' because she was never barren. She
had her first pregnancy in 1996 when we were in Sagamu but lost it. After this, we had a prayer meeting for seven
days and I believed God has done it. After that, I was not bothered again and
if there was a call for those looking for children, I never stood up."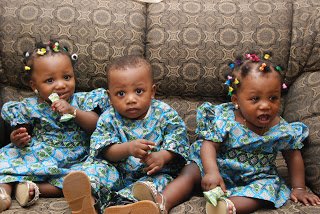 Kehinde reminisced that: "I was always having
miscarriages and had like four corrective surgeries, among which was that of
fibroid. There was a year I was pregnant and ran to the United Kingdom, so that
I would not be under any stress but I still lost the baby. In fact, I took the fetus
in my hand and was hysterical. I screamed and asked if I was the only person in
the world. Later, I was sedated and this was followed by many tears when I woke
up. "Really, there were times I gave up
and concluded that I would never have children of my own. There was a time I
told my husband to get another wife but…."
Did the husband heed to his wife's demands?
To be continued