Unlike the biblical Joseph, she never dreamt of any
transformational grass-to-gra

ce

story. No,
not once.
All 27-year-old Olajumoke Orisaguna wanted was a vocation
that would fetch money to care for her six-year-old daughter who was in Iree,
Osun State and the sickly one-year-old daughter she kept with her in Lagos. Her
husband, Sunday, was jobless and stayed in Iree with their daughter.
She found succour in a wooden tray where she hawked and sold
loaves of bread in Sabo Yaba Lagos. A bakery, where she was one of the bread-sellers
was her home. They all slept on the floor.
According to her, her prayer before and after 'bed' was: "God
help me, have mercy on me and take this wooden tray of bread off my head. I
don't want to die a slave. Lord, lift me higher."
In an interview I had with her recently Olajumoke narrated
her story. Quite amiable and humorous, looking at Olajumoke, it was very
obvious God appears in the form of men to lift people from the dust and place
among the princes.
"Is Orisaguna your surname or maiden name?" I asked as we
started the interview.
"It's my husband's family name. But my maiden name is
Akangbe and we hail from Iree, Osun State."
Dressed in a pink/white peplum dress, the bread-seller turned
celebrity model wears a low-cut and punctuated her statements (in Yoruba) with
hearty laughs.
Inside the Sujimoto apartment
"I'm sure you still feel as if you are dreaming with all
happening around you now," I teased her.
"Ha! It is a dream
o," she promptly replied.
"There are times I would wake up and ask myself, 'Olajumoke
is this you? Hmm. Sujimoto rented a luxury apartment for us. I, Olajumoke and
my family living in a three-bed roomed apartment? I was sleeping with other
bread-sellers on the floor of a bakery and God has now given me an apartment
where there are TV, beautiful furniture, gas cooker (laughs), my children sleep in a room(she laughed
and clapped her hands) and I also sleep in another with their daddy. They
(kids) attend a good private school in Surulere,Lagos and school bus picks and drops
them? I would wake up and ask myself, 'Olajumoke, are you dreaming?' I eat what
I feel like eating and everywhere I go everyone would be asking to take photos
with me. They would be calling Olajumoke. Indeed God is awesome."
Tinie Tempah's photo shoot that caused the stir
"But that particular day in February 2016, when you
photo-bumped TY Bello's photo shoot, did you have any feeling of what would
happen that day?" I asked.
"Feeling? Ha!
There was no feeling oh because I
wanted to exhaust the bread on my wooden tray. That was the only way I could
make enough profit and do my daily contribution. I decided to go to my
customers, who were mechanics in Oyadiran estate. I hurriedly went because I
didn't want them to buy from someone else. At a particular spot, close to where
I was going, a man cautioned me not to pass. He said there was a photo shoot
and I should not intrude. I cared less and didn't mind what he was saying because
I wanted to make quick sales, and I walked on," she recalled.
Olajumoke and her daughter
According to her, she made the sales, went back to the
bakery and three days later, her story changed!
She recalled, "I passed through the estate again and a man
summoned me to come. I didn't know him and didn't want to answer him. He now
chided me that he wasn't out to woo me but wanted to show me a picture on his
phone and know if I was the person. I moved closer, looked at it and replied I
was the one. He said the particular picture had been placed on the Internet and
he saw it on Facebook. He asked if I knew TY Bello and I said no. He asked if I
knew her house, I said no. He said she had been asking after me and that I
should come the next day to be taken to her place. I agreed and wondered what I
was doing on Face book that I don't even know existed!
"In the evening, I went to the bus-stop and saw a friend of
mine, who also sold bread. She was not
only afraid, she wondered why people were coming to the bus-stop and asking for
me with my photographs with them. She asked if I had not committed any offence.
I became afraid too and wondered why people were looking for me with
photographs.
"The next morning, I decided taking the remaining loaves of
bread to the estate to sell. When I got there, I saw Ibrahim, one of my
customers, who was in front of Mummy TY Bello's house. He showed me a newspaper
and showed me my picture. He then said Mummy TY Bello has been looking for me
and he took me inside. When I met her, she narrated all that happened—how she
used the picture and I appeared with an international star and people had been
asking if I was a model. I didn't understand all she was saying but when she
said I should not hawk bread again, I became attentive. She asked her guards to
take all the loaves and she paid me.
"I was happy and as I went home, she asked that I should
come again for a photo shoot. I did but didn't think about it until everyone
started calling me that they saw me in a newspaper, on the Internet and everywhere!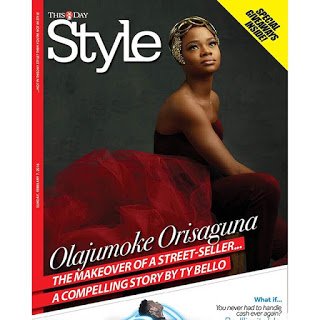 "Afterwards, Mummy TY called
me and asked if I don't mind being a model. I answered her that I don't know
the meaning of model. In fact, I had never heard of the word in my life. She
then told me that she would call my husband and if he agreed, she would help me
with the modelling job and even if he didn't , she would still help me to the
extent that I would no longer hawk loaves of bread in my life.
"When we called my husband, he was afraid and thought we had
been scammed and I was kidnapped. After much explanation, he agreed and the rest
is history."
"What was your family's reaction to all that happened?"
"My parents especially my mum, were happy. They all knew how
I suffered in Iree before coming to Lagos. I was an apprentice at a
hairdressing salon and when I was about having my 'graduation' I had to come to
Lagos to sell bread (that was in 2011) before I got money to buy hair-dryer and
other materials I needed to start business. When the money was exhausted, I
decided to return to Lagos again because Iree town is only lively when students
are on campus. When they are on vacation, business would be slow and I could
not be taking care of my children with just braiding hair at N100."
With husband and daughter during one of her assignments
"How has she been coping with stardom?"
"God has remembered me for good. There are times that I
would say, 'is this me?' I became an instant celebrity from nowhere. Nobody
knew me or my name. Now, anywhere I go, everybody would be calling Olajumoke. At
times when I go out and take a cab or ride on a motorcycle, people will keep
asking, 'Olajumoke, we thought they had given you a car? I would say God will
still do that.'
"Are your parents Christians?"
"Yes, they are and my mother attends the Christ Apostolic
Church," she said.
"Was there a vision in church that one day you would be a
celebrity?"
"No, not once," she said.
"So, you went back to the bakery to help your mates?
She said, "Yes, I promised them that I would return to help
them because I was one of them. They thought I was telling a lie. I didn't want
to be seen as a liar and I went back and gave more than 40 of them N5000 each
from Olajumoke Foundation. They were happy.
"Now a model, how are you coping?"
Yes, I am coping and whenever I hear there is a photo shoot,
I am always happy. But I still want to act. Since I was in Iree, I have always
wanted to be an actress."
Definitely, her prayer points have changed.
Olajumoke revealed, "When I wake up, I thank God for his
good hands on my life and I also pray for those that God has used to help me— TY
Bello, Azuka Ogujuiba, who take me everywhere, Pay Porte, Shirley's Bakery, Stanbic Bank, that paid for my kids school
fees till university level, even Sujimoto and many more.God shall reward them,
their companies will not be consumed by fire and I don't forget to pray that as
I am going up, God should not allow me fall. I must not meet someone who will
stand as an obstacle on my way to attaining a glorious future."
Does she have friends since she said her leisure is spent at
home?
"I don't have friends in Lagos. I have never liked keeping
friends because some friends could make you fail and fall. The friends I have,
I still call them and we enjoy our company."
"The money you have made so far, what have you used it for?
She laughed and revealed that…