The black and beautiful eldest daughter of the former Executive Governor of Delta State, Hon Erhiatake Ibori and her heartthrob, Mr. Abioye Suenu were traditionally joined together on April 8, 2017 according to Urhobo culture and tradition by the Ibori families in Oghara, Delta State.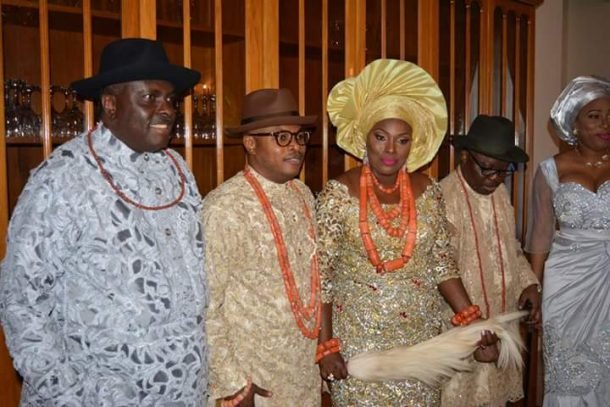 Father of the bride, Chief James Ibori was on hand, filled with true joy and handed over his lawmaker daughter to the Suenu family.
Chairman of the occasion and immediate past Governor of Delta State, His Excellency Dr Emmanuel Uduaghan advised the newly married couple to build their union on sound religious and moral principles, urging them never to take their family issues to strangers.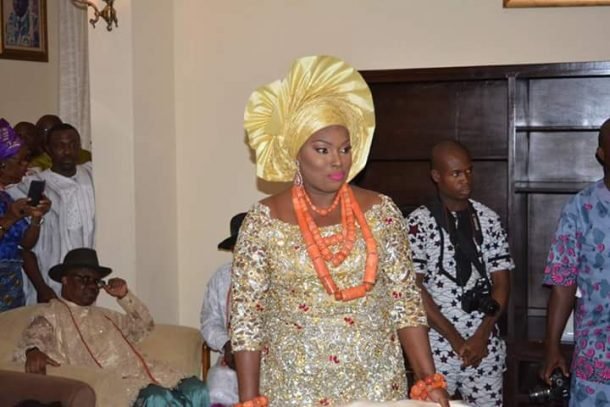 Now a fresh report has emerged about the first wife of the Abioye Suenu who has allegedly claimed that her husband was stolen from her…
Read below what was shared by the publisher at Drumbeats Magazine, Elsie Halima Ijorogu-Reed;
As Delta State politicians celebrate the marriage ceremony between Suenu Abioye and Ms Erhiatake Ibori at the Western Delta University on Saturday in Oghara, Ethiope West LGA of Delta State,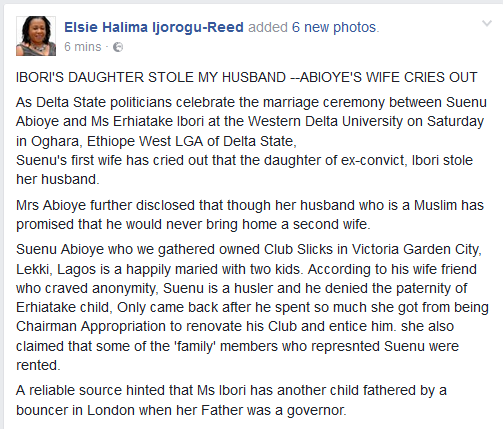 Suenu's first wife has cried out that the daughter of ex-convict, Ibori stole her husband.
Mrs Abioye further disclosed that her husband who is a Muslim has promised that he would never bring home a second wife.
Suenu Abioye who we gathered owned Club Slicks in Victoria Garden City, Lekki, Lagos is a happily married with two kids. She also claimed that some of the 'family' members who represented Suenu were rented.
Source: Nationalhelm.com