Nollywood actor cum model Gbenro Ajibade, who is married to actressmedia personality, Osas Ighodaro has decided to open up on why their marriage hit the wall.
This, he revealed on Sunday when he took to Instagram tory to lambast his estranged wife for bad parenting of their two-year old baby, Azariah.
The couple is separated.
Gbenro has relocated abroad while Osas still goes about her business in Nigeria.
According to Gbenro, Osas leaves their daughter at home while she parties all night and even once was said to have sent the baby home to the nanny through a stranger.
He wrote, "Who leaves their baby in the house and goes out to party and hang with friends/event from 6pm till 5am?!!! Its not the first, second, third or fourth time, the other night you slept out you sent our baby with a stranger to drop her off back home with the nanny so you can be out all night?!"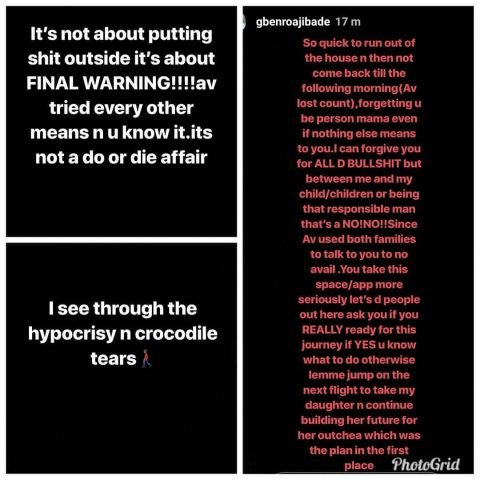 The entertaining celebrity couple got married in July 2015 and have a baby girl together.
However, a marital challenge befell the once-upon-a-time enviable union of model/actor Gbenro Ajibade and his wife, Osas Ighodaro in 2018.
But during Christmas, they came together for the sake of their baby and shared photos online.
With the recent development, its obvious the couple hasn't resolved many issues.