We have noted a press statement attributed to the EDU/Patigi Progressive Association (EDUPAPA) calling for the review of the ministerial nomination of Alhaji Lai Muhammed and Senator Gbemisola Saraki. The press statement by EDUPAPA is totally false and a dangerous manipulation of public discourse.
Ordinarily, this would not have elicited any response from us as President Muhammadu Buhari has the sole right to nominate anyone from Kwara State for a position to his Executive Council. We are obligated to respond to avoid public misunderstanding of the mischief that the so called EDUPAPA are trying to create. EDUPAPA is disingenuous and mischievous.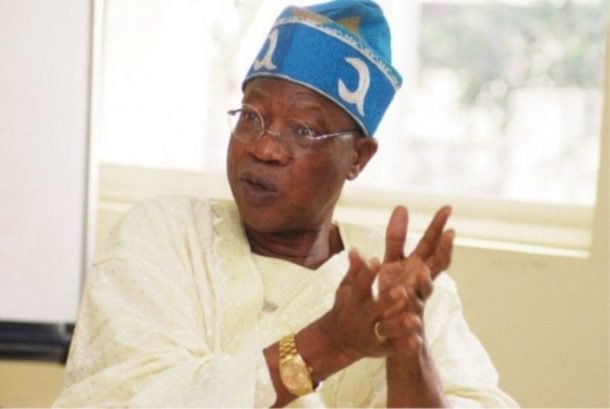 This statement would have been unnecessary if EDUPAPA confined themselves to facts. The EDUPAPA allowed themselves to be blinded by divisive tribalism and sentiments to the extent that they murder facts in order to exaggerate and mislead Kwarans about political distribution of power in Kwara. We are saddened by this and have taken it upon us to emphasize and establish certain facts that our EDUPAPA brothers are shielding from the public.
The group's main claim that Edu/Patigi Local Governments have been excluded from Federal appointments. Nothing is further from the truth.
THE FACTS:
(1) Of all the federal appointments given to Kwarans by President Muhammadu Buhari's administration, the very same Edu Local Government that is complaining has one of its sons as the Federal Commissioner representing Kwara State on the Revenue Mobilization, Allocation and Fiscal Commission (RMAFC) as recently appointed as after the general elections of 2019.
(2) The same goes for the second Local Government complaining, Patigi Local Government, who has one of its sons as the Nigerian Ambassador to Japan.
(3) In total, Kwara North has the highest number of Federal appointments, with both Ambassadors coming from that senatorial district , the second one being the Ambassador to Malaysia who is from Kaiama Local Government, Kwara North.
(4) Neither the other two zones – Kwara South or Kwara Central played to the public gallery to complain about the two Ambassadors coming from the same Kwara North zone. Why? Because we were happy that the State as a whole were given two Ambassadorial slots, and we respected the prerogative of Mr. President to choose those he deemed fit to serve in whatever position he so decides.
*KWARA UNITY: *
The Governor and the Deputy Governor must surely come from somewhere, and as Kwara North occupied the deputy Governorship seat for eight years, we wonder why EDUPAPA will bring that up again, if not only to manipulate the truth to suit their own narrative of personal agenda. The Number 3 seat, the Speaker of the State Assembly is occupied by a Kwara Northerner as well as is the position of SSG of the state. We, the South and Central, have able men and women who could have occupied these positions and even desired to, but we accepted that it should be the right of the Governor to pick his own SSG based on criteria that he sets for himself.
UNITY IN STRENGTH:
We surely hope the EDU/Patigi Progressive Association (EDUPAPA) will no try to undermine the unity of the All Progressive Congress in Kwara State. We expect them to appreciate President Buhari for considering two hardworking and deserving Kwarans for ministerial positions. We worked too hard for victory in 2019 to allow mischievous and disingenuous political intentions to create acrimony within our political family.
It is on record that Alhaji Lai Muhammed and Senator Gbemi Saraki sacrificed a lot for the peace, unity, progress and victory of the All Progressive Congress in Kwara and nationally; We won't forget so easily, how these two leaders and their followers worked tirelessly for all candidates of the APC and our dear President.
The people of Kwara North are usually peaceful and loyal people; our bond and relationship are historic. However, we have noticed that of late, a few ambitious and overzealous politicians driven by nothing but personal interest, have tried to create a divide-and-rule atmosphere, that can only destroy the APC in the state. Is this their ulterior intention?
We must all be mindful that politics of self-interest destroys all that is good in a people and in a community. We appeal to our good brothers and sisters from Kwara North, especially Edu and Patigi Local Governments, to shun these handful of people trying to make a mountain out of a molehill. We know and will never allow the activities of a few mischief makers to be taken as the position of the whole region, and thereby affect our peaceful relationship. Kwara APC is one united front that is dedicated to supporting the next level agenda of our dear President.
We advise the EDUPAPA to be circumspect in their use of language. Kwarans are grateful to President Muhammadu Buhari for the nomination of Alhaji Lai Muhammed and Sen. Gbemi Saraki. We are grateful to the two nominees for standing for us in our struggle for a better Kwara, and for working with other stakeholders to achieve the Kwara of our dream.
Join us to support our illustrious son and daughter who are great examples of great Kwarans.
*SIGNED
ABDUL RAHMAN AHMAD
Coordinator, Solidarity for United Kwara (Kwara Central)
MAHMUD RASHEEDAT
Coordinator, Solidarity for United Kwara (Kwara North)
OLADEJI ABOLARINWA GABRIEL
Coordinator, Solidarity for United Kwara (Kwara South)*