Fuji maestro, King Ayinde Marshal aka KWAM1's son, Sultan Omogbadebo Anifowoshe has not been granted bail for committing fraud in the US.

This is contrary to KWAM1's claim on December 22, 2018 that his son was not culpable of the crime but that he was the only one granted bail by the US authorities because "he was a victim of circumstance."
In a statement issued through his media and publicity director, Kunle Rasheed, KWAM 1 said the bail given to Sultan indicated that he was not involved in the crime.
The statement by KWAM 1 reads thus in full; "Our attention has been drawn to the news circulating that Sultan, K1 De Ultimate's son was arrested alongside five other people in the US over Two million Dollars fraud.
"There is no doubt that my son was among those that were arrested but what is however not true is claims that he is a fraud. We can confidently say that he was not in any way involved in the crime, which explains the reason why he was the only person that was released on bail.
"The bail given to Sultan indicates that he is not involved in the crime; he is only a victim of circumstance who happened to be at a wrong place at a wrong time.
"Many detractors are quick to celebrate the news because to them, they want to get to the father. But the truth will always shine as light over darkness.
"Sultan, we believe, will be given a clean bill of health at the next adjournment."
Sultan, 26, was arrested alongside six others in Chicago. Two other alleged accomplices were arrested in Nigeria the defendants were charged in Chicago in International Investigation Targeting "Romance Scams" and "Mystery Shopper" Schemes.
Their arrests took place two weeks after each was charged with conspiracy to commit a wire fraud scheme. If convicted, the defendants face a maximum of 20 years in prison.
Meanwhile, Kemiashefonlovehaven exclusively gathered that Anifowoshe, though granted bail alongside eight others, is still in prison since there is no surety on ground.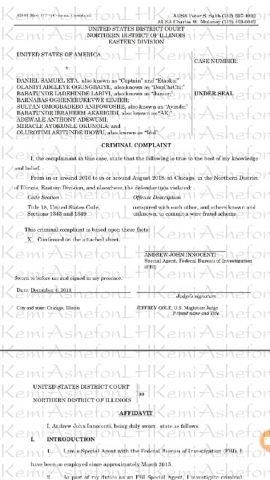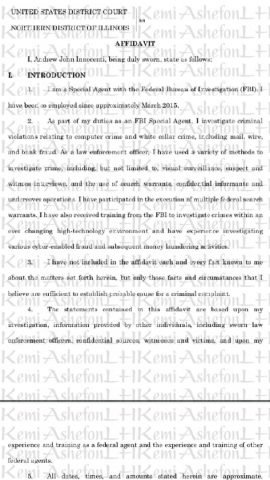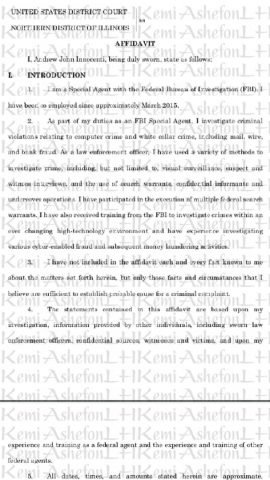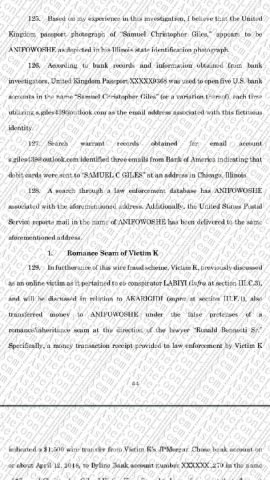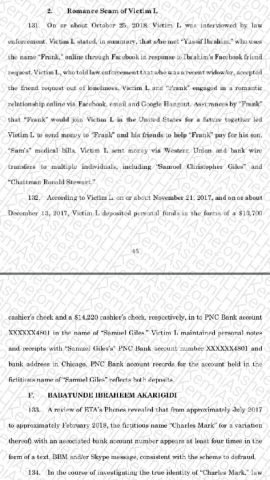 According to sources in Chicago, KWAM1 who is fond of abandoning his children who stay abroad, was contacted immediately the arrest took place but he did not pick the calls.
The source said, "His other children, who also live abroad, contacted him but their father didn't pick their calls. They sent him text messages but he didn't respond. But immediately blogs and other media broke the news, he sensed a disgrace and quickly arranged a press conference debunking the story.
"Till date, he has not got in touch with the children and even refused to send money to hire a lawyer for the victim, who he always claimed to love the most. Although he has a reputation for always been uninvolved with his children, his lackadaisical attitude towards Sultan's plight defies reasoning. Rather, he has been junketing around parties and end-of-year shindigs where he is either performing or invited as a guest in Nigeria."
In a 69-page affidavit signed in the United States District Court , Northern District Of Illinois and sworn by a special agent of the Federal Bureau of Investigation (FBI), Andrew John Innocent, Anifowoshe and eight others were allegedly milking Internet users of at least $2 million in online scams over the past two years.
The seven in the Chicago area were: Daniel Samuel Eta, 35, of Skokie; Babatunde Ladehinde Labiyi, 20, of Chicago; Barnabas Oghenerukevwe Edjieh, 29, of Chicago; Sultan Omogbadebo Anifowoshe, 26, of Chicago; Babatunde Ibraheem Akarigidi, 39, of Chicago; Miracle Ayokunle Okunola, 21, of Chicago; Olurotimi Akitunde Idowu, 55, of Chicago. Another person was arrested in Texas, and the ninth was arrested in Nigeria.
For two years, their victims became an "unwitting money mule" for the defendants. The defendants slowly built a connection with the victims, posing as their romantic partner or boss before requesting deposits into bank accounts they opened under fake passports. Some platforms used to seek out these victims include Facebook, Instagram, LinkedIn and Match.com.