For Eric Arubayi, the 2007 Idols West African runner-up who was a gospel artiste, the final journey has kicked off in Abraka, Delta State.
He died on Saturday, February 11, 2017 at the Delta State University Teaching Hospital, where he was admitted due to the consumption of expired malaria drugs that affected his liver.
Survived by his wife, Chinonso and a son, Jayden, the funeral service has already started.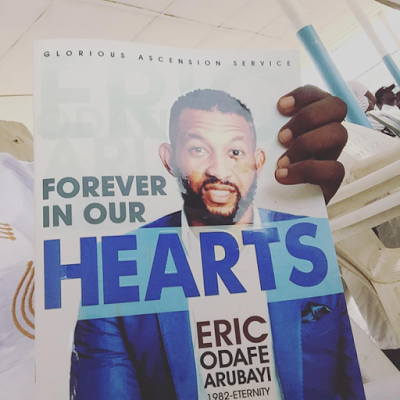 In her first post since the sad occurrence took place, Eric's widow took to Instragram to celebrate her husband's memory.
"My husband is not dead… @ericarubayi is alive. Thanks for the show of love and support," she wrote.
Also sharing a music video of her late spouse, she wrote:
"The Sound by @ericarubayi
Drops today see link in my bio for full video.
#ERICARUBAYILIVES
……………………………………… Worship leader , soul singer and song writer Eric arubayi lives on in our hearts, and through his music. We celebrate his life and his legacy with the release of his much anticipated music video " The Sound" directed by Frizzle'n'bizzle Films and conceptualized by Eric Arubayi.
The Sound was co-written by @pitasings . It is a song that totally shows an attitude of gratitude for all God has done for us. It was produced by E-Kelly on the beat who happens to be a childhood brother and friend
Under his Record Label Spirit Music, The Sound was released first in March 2016, breaking religious boundaries and capturing the hearts of many believers. The Video is sure to strike the right cords and bless your heart. This is the first video off his upcoming album."