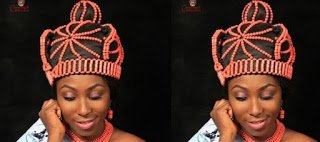 Dethroned Miss Nollywood,
Queen Grace Okoro Adaeze, has revealed how the organiser of beauty pageants employ
them as sex agents to politicians and other rich Nigerians in a bid to make
money. She disclosed this and more in a written statement.
The queen was dethroned
last weekend by organiser of the Nollywood Beauty pageant by what was
described as her 'arrogant behaviour" in an official press release.
But she responded to all the allegations in a press statement exposing how
the organiser had not only defrauded her but asked to sleep with him coupled with
threats of dethronement if she disagreed.
She stated: "I called the contact phone number which was on the advert
page for the Miss Nollywood 2015/2016 after filling the online form and making
the bank registration payment. Mr. Barakumo Odede who picked the call asked me
to order for tickets which I will sell like other contestants which is a
criteria to be a potential winner of the pageant.
"I then sold tickets worth #40,000 which I gave to Mr. Barakumo. One
night during camping, Mr. Barakumo told us all that he will interview us but it
will be privately done in his room. We went in one after the other. I went in
when it was my turn and Mr. Barakumo was behaving very funny that made me very
uncomfortable in that room. Amongst other things, he asked me if I had a
boyfriend, and I said yes, and he said that Queens don't have boyfriends but
rich men pays for it. I left the room angrily and upset, I later found out that
he asked other contestants for sex too during the one-on-one interview
sessions.
"On one fateful night again, Mr. Bara sent me a text to meet him at the
corridor, which I did. But he was not there, then I called him and he asked me
to open the next room's door, when I did, I saw him sitting on a chair with a
worried look. 'Boss, are you OK?' I asked him and he replied 'Yes, but I
am tired and I need lovemaking from you'.
"I reminded him of my boyfriend. This word got him angry and he then
told me that other contestants were begging for it while he is giving it to me
for free and I'm rejecting his offer. He pulled off his clothes and tried to
get me down then I slapped him, struggled to get away from him and ran to my
room immediately.
"He later sent me a text that he was sorry that he didn't know what came
over him and pleaded that I shouldn't tell anyone about it.
"On the grand finale, 27th December, 2015 after we have been declared
winners, we were surprised to learn that crowns were borrowed from Miss Bayelsa
pageant to crown us and immediately after our group photographs, the crowns
were returned back to the organizers of the Miss Bayelsa pageant whose pageant
was being held same day at a different venue.
"All the regional Queens were not crowned as a result of this. We were
given just flowers and sashes. There was no rules, there was no contract
agreement for us to sign, no constitution was read to us, no certificate was
given neither did we see the 1million naira star prize for the winners as
promised by Bara as he is popularly called.
The next day he told us to dress very good…he introduced us to a man who
we later found out was a politician. That was when it dawned on us that Bara
is up to something different.
"The next morning, Mr. Bara asked for N5, 000.00, I told him that I
don't have any cash on me so he begged and took my ATM card to withdraw the
money. I was so shocked to receive an alert an N45, 000.00 debits out of the
N50, 000.00 that was in the account. He withdrew all my money, the cash that I
saved for my school fees and left just N5, 000.00. When I confronted him, he
pleaded that the organization will pay me back the money later and that the
hotel management had asked us to leave because he couldn't pay the complete
deposit for our accommodation and that I shouldn't sell the company's secret
out.
"I have always carried him along in all I do yet he keeps pestering me
for money and recharge cards. I called when I wanted to unveil my pet project (the
Hope Support Initiative Foundation) and he…pledged to donate N700, 000.00 (it
is on the video tape) Bara asked me to date him I refused.
"The day I asked him of my certificate as (Miss Nollywood Culture and
Tourism) Mr. Barakumo got so furious and threatened to dethrone me if I ever
ask for the certificate again. That was when I knew he was up to something
sinister.
"Mr. Robynz…approached Mr. Bara and advised to settle all these issues
that are responsible for the beef he is having with his queens, from the
certificate to the N1million prize, Mr. Bara took it as an unfriendly gesture. Mr.
Barakumo told him that it was the duty of our boyfriends or sugar daddies to
buy the cars for us then he will claim that he gave us the cars after branding
them, saying that this is how it is done.
"I now understood why he told us in camp never to have boyfriends but
rather should date men whom he believes can get us the cars. So, we should go
out and sell our bodies for money and that the organization has nothing to give
us and that he has given us a platform for us to sell our selves.
"The last straw that broke the camel's back was when I was invited for a
children's day party by the wife of KOLGA chairman and I sent Bara a text to
inform him…but he didn't reply. Then surprisingly, on the 25th night he sent me
a text message asking me to suspend my trip to Bayelsa…he said that I'm making
the money and sharing it with Mr. Robynz and that he will make sure he disgrace
and dethrone me if I dare him and that I want to do what the immediate past
Miss Nollywood Nigeria 2014(Queen Gwen) did and that he won't let it happen
again.
"I went to Bayelsa on Thursday 26th May, 2016…for a courtesy visit to
the General Manager of Niger Delta Television. Immediately Mr. Barakumo saw the
interview on the news he became furious and told me that I want to become
popular and famous like the immediate past Miss Nollywood Nigeria and that I am
rude consequently, he will dethrone me.
"Mr. Bara was more furious after he saw my post about the success story
of the Children's Day celebration at KOLGA, Bayelsa State. That's how he
concluded to fabricate all the lies he published and that he has dethroned me.
He immediately sent me all the links and blog addresses that he published it."