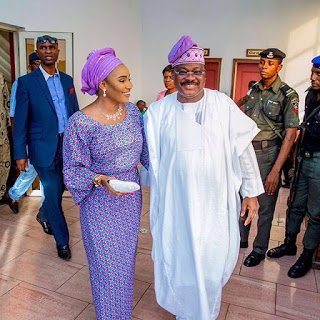 "Daddy dearest, love you loads #thebestdadinthewholeworld
#daddyappreciationday "
That was the message Abisola Kola-Daisi, the
firstborn of the Oyo State Governor, Senator Abiola Ajimobi, wrote on IG some
hours ago. With the picture of the pretty mother of two and her dad smiling at
each other, there was no better way to have celebrated one's father.
Married
to her beau, Kolapo Kola-Daisi, one of the sons of Ibadan multimillionaire,
Chief Kola Daisi, Abisola is not your average
socialite and fashionista. She attends high-octane events both home and abroad
and continues to break boundaries in the fashion world on all sides.
The fashion connoisseur, who is friends with a number of
international celebrities including Kelly Rowland, made quite a statement when
she was spotted at Kim Kardarshian's much-talked-about wedding some years ago,
wearing an
haute couture Givenchy gown.
A retailer of high-end designer shoes, the

US trained fashion
entrepreneur's impeccable dress sense stands out
all year round.
Gov Ajimobi's children especially the girls adore their father.
One of them, 18-year-old Ajijola, in an interview with SUNDAY PUNCH described
her father as one who not only has time for the children while they were growing
up, but taught them how to drive.
She recalled, "

He created a lot of time for his
children because he is a complete family man. We would go out driving around
the estate almost every night. He taught me how to drive. He ensured that I
enjoy his company every time."
See
why Abisola celebrated her dad on IG?