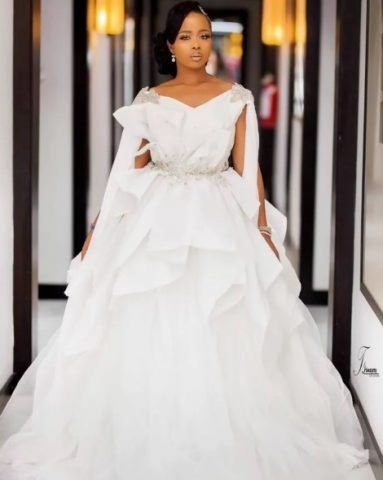 There was no queen that snatched a special part of the king's heart like Queen Olaitan Badirat Ajoke Adeyemi.
She was all over the ageing 82-year-old monarch, Oba Lamide Adeyemi, the Allafin of Oyo, and everyone knew she was a special queen.
Recall that the young queen was said to have been sent packing from the palace because she was allegedly dating Fuji musician, Ayinde Marshal aka KWAM1.
The news which emanated from an online portal, ESABOD went viral.
In a voice note, Esabod pointedly accused the youngest wife of the Alaafin of Oyo, Lamidi Olayiwola Adeyemi III, of having sexual relationship with K1, who was installed in January 2020 as the Maiyegun of Yorubaland by the highly revered monarch.
Claiming innocence of all accusations, Queen Ajoke, however, placed curses on herself should the rumours going viral be true about her and the respected artiste.
"May all the gods of Alaafin deal with me if I ever had sex or any untoward relationship with K1.
"I beseech the spirits of dead kings and queens to deal badly with me should the rumour be true but if the accusations aren't true, may all the curses be that of Esabod and her offspring," she said.
But despite the rumour Queen Ajoke stated her chosen place in Kabiesi's life in a post some months ago indicating that she was still with the king.
Then, she put up a post on Instagram. The photo was that of the young queen and her husband having tete-a-tete during her twins christening at the palace in Oyo town two years ago.
She captioned it, "He was saying; Can you stop being so cute? 🤣 @alaafin_oyo #hisoxygen.. #elledaddy"
But then, the Ileya photo shoot where some of the young and pretty queens of the monarch took photos with him had Queen Ola not present.
In the Oyo palace, the usual custom is for some of the queens of the paramount Oyo ruler, Oba Lamidi Adeyemi, to gather at any festive season to celebrate with him.
They would dress gorgeously and take photos with the ageing monarch.
This year's Sallah celebration had the queens wearing expensive aso ebi and make-up.
But Queen Ola was conspicuously absent. Though observing her national youth service in Lagos, everyone believed that she would have gone back to Oyo to celebrate Eid-fitri with her husband and children.
Just as tongues wagged on the present status of the queen, she shared an Instastory on what a woman who had been divorced should do!
Queen Ola wrote about divorce and how one can move on in such a situation.
Could she have left the king?
But culture enthusiasts would tell you that a king doesn't divorce his queen.
But her postings and attitude on social media does not depict one who is married to a king anymore. Now she wears more of informal clothes and models for some brands.
She also has blocked all other queens of the palace from her social media pages.
First, Kemiashefonlovehaven observed that the 30-year-old queen has parted ways with her once-upon-a-time best friend, Oloori Omowunmi Memunat. Also one of the young ladies who married the almost 82-year-old Oba Lamidi Adeyemi, Oloori Memunat, would always tag herself as Queen Ajoke's best friend.
Queen Ola, a mother of three, who must have married the king in her early 20s, is one of the favourite queens of the 82-year-old monarch of the Oyo Kingdom.
Not known to be a friend to many of the queens, Queen Ola enjoyed much privilege from the monarch and hardly befriends any other wife in the palace except Queen Meimunat.
Then, Meimunat was a best friend in the palace and that is Queen Memunat who also gave birth to a set of twin girls in 2018.
They wore same clothes and were always at the beck and call of the Alaafin, Oba Lamidi Adeyemi, who will clock 82 years in October.
Both queens, who are Alhajas (went to Mecca at the same time earlier in the year) were pregnant at the same time and gave birth to their babies a week apart.