Despite the hullabaloo raging in some celebrity marriages lately,
handsome actor, Sunkanmi Omobolanle still wants his to be till death do them
part.
The fair-complexioned son of Sunday Omobolanle aka Baba Aluwe, Sunkanmi, is
married to Abimbola, a Dubin-based businesswoman. Recently, he decided to
celebrate his wife's birthday and he spoke of her in glowing terms. Here is his
post on Instagram:
"You no doubt.. Yes .. U are my all. Yes … No 1, nothing
compares to you in my life. Yes .. You are my wife, the only mother of my kids. I asked
God for so many things but above all I asked God for a best friend, one who
would be with me till the end of time, that one who would respect my flaws, an
angel till the very end of my days.

A
mother whose love holds no bound and God gave you to me. I'm foreva indebted to
God and on such a special day like this. I just can't thank God enuf making u
the biggest part of my world. As u step into a new year today my life, I pray God
in his infinite mercy answer our prayer. may u blossom all day . Everyday of your life. Olorun ko
ni ko Idi ai'mose si e ni oruko JESU. Abimbola Omobolanle I love u and will do till my
very last breath. Happy birthday to my mother on earth, my wife, my
everything and thank you for bringing out the very best in me.I love u
and till death will, baby." (sic)
They have been married for over five years.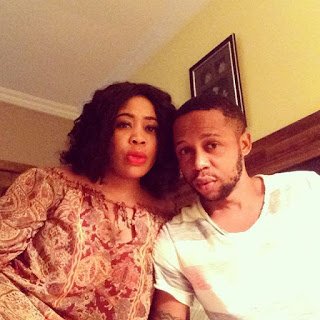 Sunkanmi and wife, Abimbola
In an interview granted SUNDAY PUNCH, Sunkanmi confessed
that since he lost his mother many years ago, he had chosen his wife as his
mother. He says, "Till date, I can't tell what got me attracted to her. All I
know is that I am very comfortable around her and also she has a hairline just
like my mother. Since my mother is dead, that is always a big reminder.
But does the wife get jealous of her husband's female fans?
Abimbola says, "Not at all except when one or two girls call
consistently. At times like that, I get to query his relationship with the
person. He does not even have to be an actor for things like that to happen.
Even people who are not famous have admirers."
Then, they revealed that they run joint bank accounts.
Sunkanmi says, "My wife and I have a joint bank account. We
also have our individual accounts but the joint account is better run by us and
given greater priority. We don't fight or argue over money because it has never
been a determining factor in our marriage."