Nollywood actor cum comedian, Babatunde Bernard Tayo aka Baba Tee has walked out of his marriage to Dupe Odulate.
This is his second relationship that would crash.
The actor, who dated Yetunde Bustline, a popular 'Big Girl' in London, walked out of the affair in 2015 when, according to him, "he could not control her again."
The drama that followed was messy and scandalous. But Baba Tee sought solace in Dupe whom he dated afterwards. They must have gotten married legally because she referred to him as her husband and he also called her his wife.
Baba Tee and Dupe seems to be having the best of time, travelling, shopping, hanging together with friends and all taking pictures of their lovey-dovey moments.
But many of their fans were shocked on January 30, 2019 which was Dupe's birthday, when her husband refused posting any photo of his wife, which had always been his custom.
Then, his estranged wife took to Instagram, posted a message and wrote: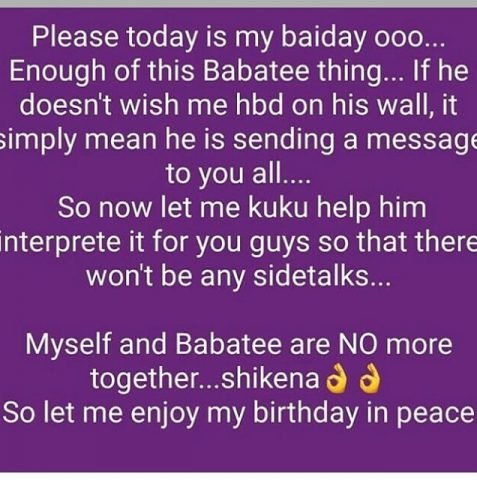 @omosunlade – #fact
Dear Lord, condemn those that condemns me secretly and openly….
Walk in my shoes ,know what I go through before you judge me….
Apologies to those that I have offended because of this guy…Now I understand better…???
Life goes on , I cannot come and die?♀️?♀️?♀️
Be a man and say the truth."
Already, their photos have been deleted from each other's Instagram's handles and Dupe has been thanking God for her new status—single.
The marriage produced a baby girl.
A graduate of Civil engineering from the Yaba College of Technology, dark-skinned and pretty Dupe is from the prestigious Odulate family in Sagamu. She graduated in 2012. With her many thought the comedian/actor had found his missing rib. This is due to the fact that they were fond of each other and publicly displayed affections. Before the split, Dupe's Instagram page had loads of lovey-dovey photos of their lifestyle.

Referring to Baba Tee as 'my hubby' she showered praises on him at any opportunity. The silver spoon took to Instagram to show she savoured the union.
Then, she would post: "This man is d best of the best. Man Wey dey fowosere with me, kind hearted hubby, selfless man, I say am lucky to have u give me so much love. My daddy after daddy." (sic).
She calls me many names: "my against all odds boo; my best friend; Olowo Ori mi."
When the actor had his birthday sometimes in 2017, she posted "Happy birthday to the man that braces the breath of life that Jehovah has given to me.
My best friend, My companion, My soulmate, My king, My small god, My partner, My breadwinner.
A man that can die for someone he loves.
A man with a heart of gold. A man that is selfless and God fearing. The man that has given me so much love that I cannot comprehend. The man that brought sunlight to the darkest hours of my life and that is why I call him my SUNSHINE. May Almighty God grant your heart desires Ife mi.Happy birthday Akanbi mi." (sic)
Even on her IG handle, Baba Tee did not hesitate to reciprocate.