She is Oloori Aramide Sekinat Elegushi, the beautiful wife of His Royal Majesty, Oba Saheed Ademola Elegushi, Kusenla lll, The Elegushi of Ikateland and Nigeria's most effervescent monarch.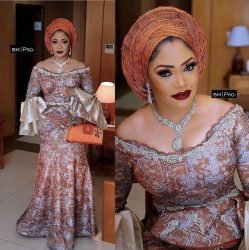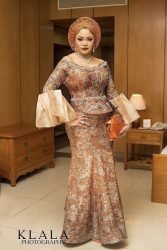 For Oloori Elegushi, comfort precedes style which is quite evident from the appearances she makes in both native and Western outfits.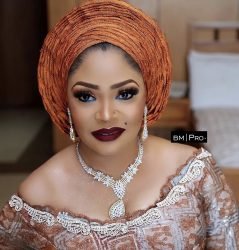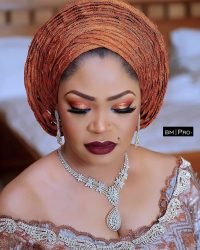 The diamond set she wore during the Nikkah and white wedding ceremony of her brother-in-law, Oyekan and Eniola Oladunjoye, held last weekend, is still creating a swirl of sensation among the womenfolk. The diamond set was sourced from Ijeoma Ubosi, who is reputed to be one of the most resourceful diamond merchants in Nigeria.
Every time we look at Olori Elegushi, we can't stop swooning over her ensemble. It's a well-coordinated look right from those diamond set to the burnt orange outfit.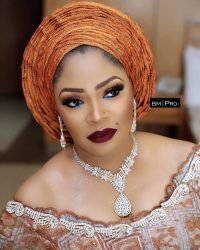 Olori Elegushi carries her native outfits with grace and elegance. She is not overtly trend conscious, doesn't get carried away by the latest fad or trend. But, she definitely has it in her to set them. Is it any surprise then that she is regarded as the most stylish Oloori?
Make Up – Banke Meshida-Lawal @banksbmpro