Pretty and young mother of two, Orode Uduaghan seems not troubled by whatever news is filtering about her ex husband, Ryan Okpu. The now single mum of two, who is now living a deeper Christian life, will hit 29 years in July.
Formerly married to Ryan Okpu, she has revealed in an interview with Fabmumng.com that she would give marriage another shot.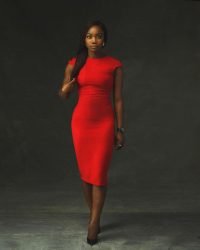 Known to talk about her life as a single mum, Orode told Fabmumng, "It's not easy filling in the gap. I am living my dreams. I am not trying to be an awesome mum for the world to see that all is well and good, no. Sometimes all is not well, sometimes it difficult. I mean, it was hard- it still is hard. It not the funniest thing that I wanted, it was what I had to do to be honest; it really all boils down to God. There are still dark days, there are still days where I ask myself some questions, should I have been better, should I have seen signs, what mistakes did I make? But the moment when God really stepped into the picture for me was when it became easier. I enjoy the gift of marriage, knowing what God intended for marriage and I want to experience it properly some day. I want to be married. I tell God every day that you are going to bring me a man that I will enjoy marriage with."
Asked if she was considering marrying again and she responded:
"By God's grace, I will of course, it's a beautiful thing when done right and in God. (laughs)."
Ryan Okpu would still have been married to Orode, daughter of former Delta State governor, Emmanuel Uduaghan, but he is no longer her husband.
He was said to have walked out of the 4-year-old marriage.
According to reliable sources, his action was due to the fact that he did not get proceeds he expected from the marriage. Findings revealed that unknown to Orode, Ryan wooed her and got married to her simply because he wanted to lay his hands on her father's wealth.
Before Ryan, Orode dated former West African Idol's contestant, Eric Arubayi (now late) who was her longtime boyfriend. Even her parents had thought Eric would be the lucky man. But the roller coaster relationship ended sadly. No one could tell why they broke up since the younger Uduaghan's parents took an instant liking to the light skinned handsome dude so much so that it was alleged in some quarters that the older Arubayi was made the Vice Chancellor of Delta State University, Abraka because of the young lads' relationship, which both families had thought would end on a good note.